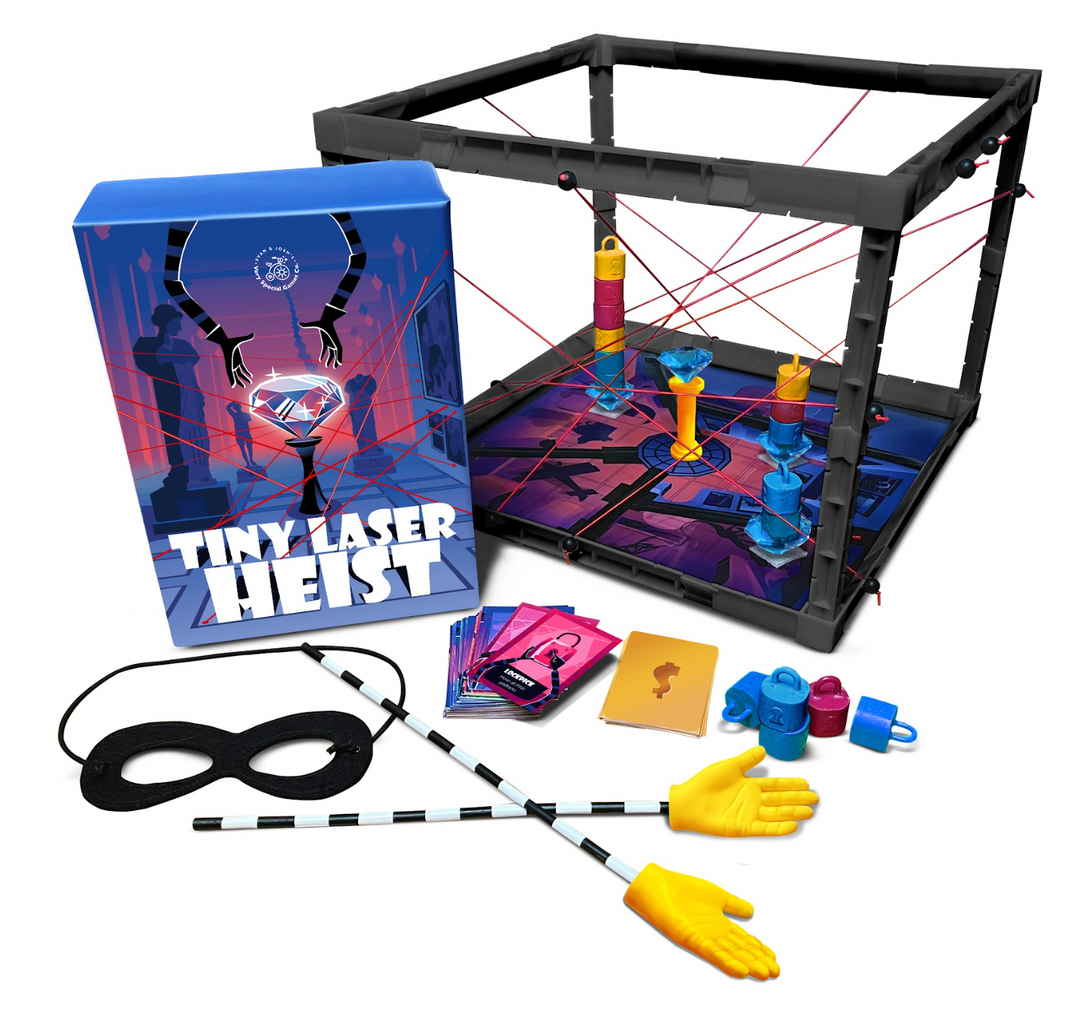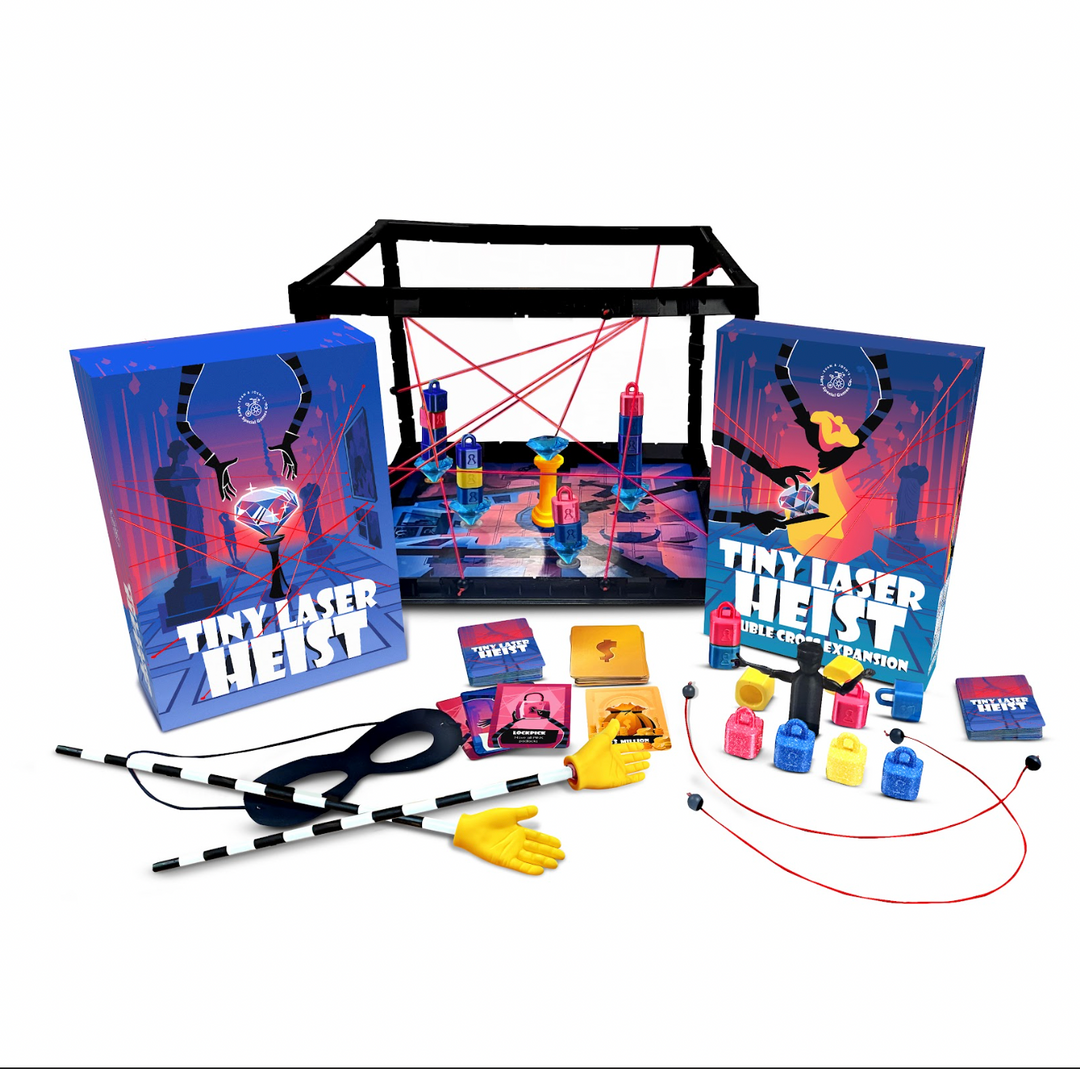 Tiny Laser Heist
A Hilariously Awkward 3D Heist Game
Pre-Ordered by 3,426 backers on Kickstarter!
New teammates every round. Recruit a new heist team each turn!

Winning takes dexterity AND smarts. Cunning negotiation often beats physical skill.

Cooperate with tiny hands... Each player only gets one!
PRE-ORDER: Tiny Laser Heist Base Game
PRE-ORDER: Tiny Laser Heist + Double Cross Expansion Pack
Estimated to ship June 2024
Estimated to ship June 2024
*Can't apply additional discounts to bundle
Pre-Ordered by 3,426 backers on Kickstarter!
New teammates every round. Recruit a new heist team each turn!

Winning takes dexterity AND smarts. Cunning negotiation often beats physical skill.

Cooperate with tiny hands... Each player only gets one!
Hi. We're Evan & Josh, the co-creators behind this game. We've always believed that party games could be more than just cards and dice, and so we've created Tiny Laser Heist.
Tiny Laser Heist is much more than just hilariously pulling off heists with tiny hands (though yes, that part is film-worthy every time.) You'll also have to cunningly negotiate and plan smart heists — each round is like a miniature Escape Room on your table!
We designed Tiny Laser Heist to be super easy to learn, but surprisingly competitive and strategic. But, don't take our word for it:
Yep — the lasers actually trigger
A game with "laser" in the name wouldn't be much fun if they didn't actually work. Elastic lasers slot into the easy-to-assemble frame — more get added as the game progresses!
If you bump into one too hard with your tiny hand, boom — they snap off and your heist fails.
Despite lasers detaching dramatically, they're designed to be super lightweight and safe when they go off.
What cards are in the game?
Powerup Cards
Meet Powerup cards. Some of these are extra advantages you can bring to your heist team, like adding Extra Time, but many are devious (and hilarious) nuisances you can play to sabotage someone else's heist, like being forced to cover one eye!
Others let you backstab your opponents, or earn money in other sneaky ways.
Money Cards
This is what it's all about. Jewels guarded by more padlocks are worth more money cards!
Before the heist begins, the recruited heist team will all have to agree on what cut of the heist they'll each get for participating — shrewd negotiating is the key to walking away with the most cash and winning!
When you order the "Base Game" of Tiny Laser Heist, you'll get:
6x Tiny Hands

10x Security Lasers

28x Colorful Padlocks

4x Heist Jewels

Easy-Assemble Laser Frame

Museum Game Board

Central Pedestal

Skill Cards Deck (Lockpicks + Powerups)

Money Cards Deck

Burglar Mask (designates the Mastermind!)

Heist Bag for Padlocks
For an an even bigger, better heist experience, check out the Double Cross Expansion below!
Tiny Laser Heist: Double Cross Expansion Pack
Glitter Locks, Sabotage Cards, and Bribable Guards!
We've designed the base game of Tiny Laser Heist to be accessible to anyone, with a focus on keeping heists fast and fun.
But, if you're a serious Mastermind looking for a more mind-bending and cutthroat game, we've designed the Double Cross Expansion just for you.
What's so great about this Expansion Pack? So glad you asked.
Glitter Locks
The Double Cross Expansion comes with 9 GLITTER LOCKS.
When these high-tech locks appear in a stack guarding a jewel, the value of the heist is doubled, but at a cost — you can only move Glitter Locks onto other matching color locks!
Glitter Locks add a self-generating logic puzzle to each heist, forcing you to come up with an intricate plan of how you'll move locks — then, you'll actually have to pull it off!
Finally, meet The Guard.
They're an adorably clumsy, long-armed security master, and they add an extra challenge to each heist!
The heist team is either forced to physically move them out of a room before moving locks or jewels in that room — you'll often have to move the guard multiple times per heist.
High-quality products, higher quality Customer Service
We know pre-ordering from a company you may have not purchased from before can feel... unusual. But, even though you won't be receiving this game for some months, we want to take some time to talk about how committed we are to making both a high quality product, and making sure it gets to you as hassle-free as possible.
Product Quality
A game like Tiny Laser Heist is likely more "3D" than you're used to, and it's super important that all the components feel strong, long-lasting, and well made. We're working with one of the top game manufacturers in the world to produce this game, and we're even more confident in their production abilities, because they manufacture Abducktion, another game we make that includes 80 plastic ducks and a 3D, silicone UFO.
Here's what some previous customers have said about the quality of Abducktion:
"...the internal packaging and storage is the most well thought out design I've ever seen for a storing the pieces! I wish more designers put as much effort into all the aspects of the game as these guys!" —Sammie S.
"Abducktion is even better than I imagined. First, the material itself is amazing. High-quality cardboard cards with great artwork. The formation cards have a thick feel with a beautiful foil backing. The formation cards themselves are top notch. The UFO is well designed, not only to hold the ducks, but the ability to blindly draw the ducks is effortless. Second, the storage box is incredible." -Mike C.
"This is my favorite Very Special Games game yet (and I love them all)!!! It's so strategic but also easy to learn and the games go quickly. The pieces are all very high quality! Absolutely love it!!" -Steph H.
Customer Service
Product quality doesn't matter much if your game doesn't make it to your door! Our company has successfully shipped more than 500,000 games to individual customers in the past four years, and we've gotten quite experienced in every step of the logistics journey, from international freight to your individual tracking numbers.
But, sometimes packages get lost or damaged. If this happens, no problem — you'll just reach out to our Head of Operations and Customer Service, Blake. She handles our customer service and logistics full-time, and if we need to reship or replace a part, we're ready to.
Here's what some customers have said about our Customer Service:
"Well, didn't you just make my day! I'll be sure to shout from the rooftops for service like this. Thanks for restoring my faith in customer service!" -Elaine J.
"This is the best customer service I have received from a company in a very long time. The games were on my doorstep in less than 24 hours of my email. Please don't lose this as you continue to grow the company. Absolutely fantastic from beginning to end. Thank you!" -Billy T.
"I sincerely appreciate your dedication to customer service! I wasn't expecting that type of response and especially not quickly. Thank you!" -Joshua K.