"Charty Party makes an awesome gift for any math or data enthusiast...
...but it's fun for literally anybody — so long as they're on board with NSFW humor."
- Bustle.com
Charty Party Original + All Ages Edition Bundle!
Charty Party: All Ages Edition
"Charty Party makes an awesome gift for any math or data enthusiast...
...but it's fun for literally anybody — so long as they're on board with NSFW humor."
- Bustle.com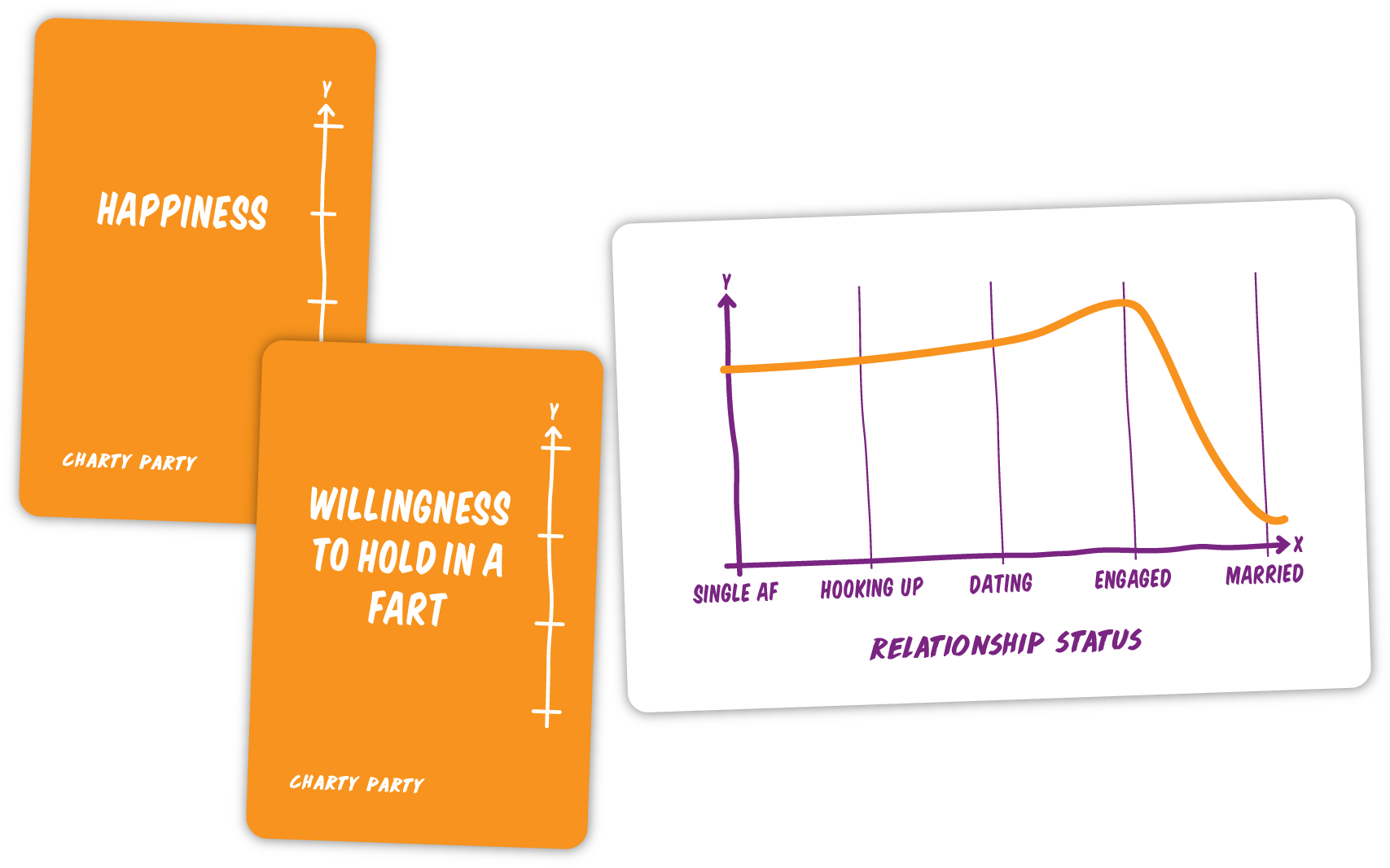 The game of absurdly funny charts.
A hilarious game for (kind of) smart people! Recently named by the Daily Dot as the "#1 game to play when you're sick of Cards Against Humanity" 




Charty Party combines mathematically questionable charts and absurd humor into a fast-paced, easy-to-learn party game. No math required!
IS IT APPROPRIATE FOR ALL? Nope. If it were a movie we'd rate it PG13. But, the jokes tend to be more clever than offensive, and it's a great fit for an adult family game night. For the All Ages Edition, go here!
Bundle the Original and All Ages Edition for the funniest game night!
Twice as many hilarious cards & charts!




The purple "All Ages Edition" is hilarious but appropriate for all (even classrooms!), but pairs seamlessly with the Original game




Save 20% when you Bundle!
Watch Charty Party
Learn to play in minutes!
Ridiculous Nerdy Humor
Filled with 44 absurd charts, it's your job to play the funniest answer to, "What's this graph all about?"
Easy to Learn
Learn to play in under a minute, even if you're not a "math person." (And if you are, buckle up for a hilariously irreverent time.)
So, I bought this game on a recommendation by one of my friends because she knew I would love it. Well. I haven't even played the damn thing. As soon as I pulled it out of the box, my 20 year old grabbed it, read the instructions to my other son & daughter - and the rest is history. Now, my son says he needs one to take to school in the fall. As hubby and I were going to bed last night, we had to threaten to burn the damn thing b/c the kids were being too loud playing this game. So... I'm about to buy another one for us old folks.
Seriously.. not only is this game fun.. (chaotically fun if I gained any insight from my kids behaviors).. but we haven't heard our kids laugh so much together in years, blessings in the chaos.
-Becca W.


Frequently Asked Questions
Do I need to be "math person" to play this game?

Definitely not. Charty Party is designed so everyone can intuitively make chart-based humor, and you'll likely get even more comfortable with graphs as you play. In fact, many teachers use the All Ages Edition as a fun way to teach their students about graphs! (But, if you are a "math person," you'll probably find this game extra funny.)


How many players can play Charty Party?

What's included in the box?

Charty Party comes with:

44 wacky chart cards
250 hilarious "Y-Axis" cards
Easy-to-learn instructions

What's the difference between the Original Charty Party game and Charty Party: All Ages Edition?

While both equally hilarious, Charty Party: Original (the orange box) has some cards that are rated PG-13, and definitely isn't appropriate for all. Charty Party: All Ages is designed for everyone, and you can feel totally comfortable playing with families and even classrooms!


Can I combine both game editions?

Heck yeah. Both games can work seamlessly for even more graphing fun!


Individual rounds usually take about 1-2 minutes to make a response (feel free to set a 90 second timer if you like). The whole game takes anywhere from 30-60 minutes.


How long does a typical game last?

Similar to other party games, about 30-90 minutes. But, you can have fun playing just one round, or 20! We recommend first person to win five rounds wins the game.